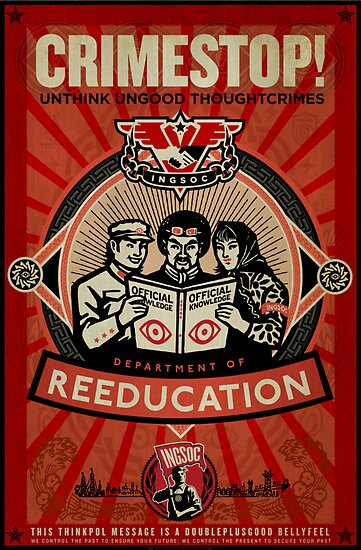 This image in an artists illustration of what propaganda from INGSOC would most likely have looked like in George Orwell's 1984.
The book itself acts as a warning to government take over. It was written in the 1960's as communism was on the rise. However the image above refers to the text itself not the message it conveys to the reader. This artist depicts a poster that Ministry of Truth would have very likely used to control the populace. Anyone who sees this poster will first be struck with large heading that pops out from the dark red backdrop. By using large block letters, the words gain an impression of power and forcefulness as if they should be obeyed. "CRIMESTOP!" establishes an idea that everyone should be obeying and that is stop performing crimes. The smaller black lettering below it immediate addresses the understood question 'How?' raised by the decree of "CRIMESTOP!". By putting these too statements immediately following each other, It doesn't give the reader of the poster time to question the above statement. Instead it tells the reader what the answer of 'How?' so that the reader doesn't have to think of an answer on his/her own. The poster puts ideas into the readers head to make sure that the reader won't come up with answer him/herself. This helps the poster's meaning gain influence over the reader and essentially attempt to make the reader become dependent on the ministry to tell them what the answers are to any question. By analyzing these four words and the way they are presented, it is possible to establish what the ministry behind the poster is trying to establish.
In addition to the most important idea of the poster, there are pictures that support the words with good sensations. Without the pictures the words would sound extremely authoritative  and demanding but the pictures of people smiling and the man proudly holding the flag of INGSOC support the authoritative words above. They make the words more trust worthy because the people in the poster seem to be happy when trusting the words too.